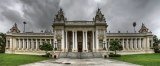 Riverside Jail, also known as the Robert Presley Detention Center, is located at 4000 Orange Street, Riverside, CA 92501. Fausto's Bail Bonds provides bail bond services to inmates detained at the Riverside County Jail and inmates arraigned at the Riverside Historic Courthouse, Riverside Hall of Justice and Riverside Family Law Court.. If you or a loved one needs Riverside County Jail Bail Bonds, contact your Riverside Bail Bonds Agent right now by calling Fausto's Bail Bondsmen are standing by ready to help 24 hours/day, 7 days/week.
Bail Bonds for Riverside Jail
Riverside County Jail, also known as the Robert Presley Detention Center, services the residents of Riverside County. To contact the Riverside County Jail (Robert Presley Detention Center) directly, call 951-955-4500 or visit their website www.riversidesheriff.org.
About Fausto's Bail Bonds
Located near Southwest Justice Center for 20 years, Fausto's Bail Bonds has grown into a large bail bond agency that is able to provide speedy and professional bonding services throughout Murrieta and several parts throughout Southern California.
Immediate Release
Paperwork is quickly processed so defendants are released as soon as possible.
Payment Plans
If financial arrangements are a concern for you, we offer several bail payment plans, usually without collateral. Call us for more details.
Open 24/7 – 365
You can find a local bail bondsman in your area 24 hours a day, 7 days a week, ready to help.
Fast, Easy & Convenient Bail can be posted anywhere in the United States.
Our Goals & Mission as a Bail Bonds Agency
It is the goal of Fausto's Bail Bonds to treat our bail bonds clients with respect. We strive to inform and educate all parties involved by clearly explaining all responsibilities stated in the bail bond contract. We realize that this is a difficult situation and we want to make it as easy as possible.
It is the mission of Fausto's Bail Bonds to provide each of our valued clients with fast, confidential and courteous service throughout the bail bond process. We believe in the right to bail and that a person is innocent until proven guilty. We also believe each person has the right to a fair and speedy trial and has the right to be represented by an attorney.